Join us on a journey to Santa Fe to visit these GSI and LID projects. We'll provide the transportation and a delicious lunch!
---
SANTA FE RIVER AT RICARDO BRIDGE – WILLIAM J. MILLER & ASSOCIATES
John Critchfield, PE – wjmillerengineers.com
This was one of the most challenging sections of the Santa Fe River original design as there was a 6ft elevation drop in the channel at this location and the floodplain is constricted. Originally designed with a series of 4 two‐step cross vanes, it performed well until an unusually large monsoonal storm event damaged the structures in July 2018. As a team, William J. Miller Engineers, Inc. and Sites Southwest developed a hybrid grouted boulder ramp design for stabilization of these drops. During the Construction phase, the Contractor ran out of backfill material on‐site, leaving a large pool area under the Ricardo Bridge when river flows began in April 2020. The Engineer advised the City to let the pool fill in naturally with the sediment‐rich monsoon flows expected within a couple of months. Prior to the monsoon when the City began their living river releases, the river flows created a large pool of water, drawing immediate concerns from some local residents over the potential for stagnant water and vectors for disease. Meanwhile the hybrid cross vane structures were also growing popular as a natural access point for public engagement with the river. During the tour, Engineer will share lessons learned on this Project and facilitate a discussion among participants about public engagement challenges related to Green Stormwater Infrastructure (GSI) projects in New Mexico.
---

BROTHER'S LANE RAIN GARDEN – SANTA FE WATERSHED ASSOCIATION
Mori Hensley, Santa Fe Watershed Association – www.santafewatershed.org
Reese Baker, The Raincatcher, Inc. – theraincatcherinc.com
In cooperation with the City of Santa Fe, the Santa Fe Watershed Association (SFWA) has been awarded funds by New Mexico Environment Department River Stewardship Program to implement bioremediation projects by capturing stormwater runoff along the Santa Fe River. The overall goal of the East Alameda Rain Gardens and Camino Escondido Zuni Bowls project is to protect and improve water quality in the Santa Fe River, and assist in the restoration of the Santa Fe River watershed and its associated designated uses. SFWA is thrilled to be collaborating with the City of Santa Fe, Watershed West Engineering and The RainCatcher LLC, who have been involved since the project's inception.

The project is exciting due to the strong collaboration of many public and private entities, as well as the public visibility of the site locations. The rain garden complex near Brother's Lane Bridge on East Alameda–planted with trees, shrubs, grasses, forbs, and fungal inoculants–will help divert and clean stormwater runoff that would otherwise pool at the corner of East Alameda and Old Santa Fe Trail before flowing directly into the Santa Fe River. Runoff will instead be able to flow into the rain garden, infiltrate into the soil, nourish the plants, and be cleaned before slowly entering the River. The Zuni Bowl complex at East Alameda and Camino Escondido repairs the severely eroded and damaged culvert, and will give stormwater runoff an area to disperse its erosive energy before flowing into the Santa Fe River.
---
CATHEDRAL PLACE RAIN GARDEN
Athena Beshur, Seeds of Wisdom – https://sowsfe.com/
Growing trees in the semi-arid southwest requires stormwater harvesting techniques for improved plant survival. One such technique is planting within Rain Gardens, as is being done along Alameda. These help clean and slow water before it enters into the river channel, while being used to help improve the urban canopy. The Cathedral Place Rain Garden focuses on three main facets of urban forestry- trees, stormwater and people. The pathways are widened to allow people to pass each other and congregate safely before crossing the street. Stone seats allow a chance for repose after a busy day in the city center. The benches are positioned to see artwork in the park across the street. Trees are positioned to provide shade to the benches in the heat of the summer afternoon. There are frontier elms and burr oaks that are selected to be able to withstand periods of drought and inundation during rain events. The curb cut leads water into a 'lessons learned' designed sediment trap, that captures debris while allowing the water to flow to the trees. Each tree has a mulch filled sponge, called a lagunita, a soil technology that Seeds of Wisdom developed to help harness stormwater and allow it to sink in. The lagunita has proven a successful method for growing trees in the semi-arid desert, as it helps roots extend and access moisture & nutrients.
---
SANTA FE BOTANICAL GARDENS
Craig Sponholtz, Watershed Artisans – www.watershedartisans.com/
Arroyo Restoration at the Botanical Gardens

Description coming…
---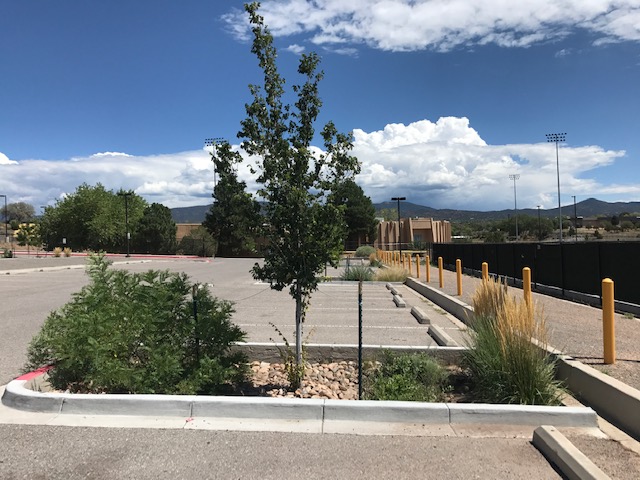 The Santa Fe High School student parking lot and activities parking lot comprise more than 165,000 sq ft of impervious area. Together these lots drain nearly a million gallons of stormwater each year. Historically, stormwater from the parking lots was discharged into the Arroyo de los Chamisos, frequently causing erosion damage to the arroyo. In 2019, taking advantage of a building remodel project, a total of 28 parking spaces were retrofitted as rain gardens, with the intention to reduce stormwater runoff and improve passive irrigation for newly planted trees, shrubs, and grasses. Another primary objective of the project was to install and assess the functionality of an easily replicable basin which could be used in existing or new parking lots where flooding, heat retention, and stormwater pollution are problematic. Based on an ongoing soil moisture study at the Santa Fe Community College, each rain garden was designed to capture runoff from about 3,500 sq ft, or an approximate 1/3-inch storm event, from contributing impervious parking spaces. After a couple of years of monitoring there have been several noticeable outcomes, with a common theme being that inches can make the difference between success and failure, functionality, and maintenance. Observations to be reviewed during a site visit will touch on the intricacies of curb and gutter height/width/orientation, the challenges of drought during vegetation establishment, and the impacts of insufficient slope from surfaces contributing runoff.